I was invited to go to Des Moines, Iowa as a part of the Schoolhouse Gate Project. The was an opportunity brought to us by Maribeth Romslo, a filmmaker who has been working on a documentary with us since February 2018. Her project is called "Young Voices, Big Change."
https://www.schoolhousegateproject.com/
https://www.youngvoicesbigchange.com/
We began the discussion about coming to Des Moines in November while at NSPA in Chicago. We knew it would be an amazing opportunity for not only us, but also our students. Maribeth made it her mission to get funding to get us to Iowa. She worked her contacts and made good on her promise. Through the generosity of others, we were able to travel from Parkland to Des Moines.
———————–
Thursday, 2/21
I landed in Des Moines around 10:30 pm. A group of eight students (four from newspaper and four from yearbook) came to Iowa with me and the newspaper adviser, Melissa, for the 50th anniversary of Tinker v. Des Moines. It was dubbed the #Tinkerversary.
Upon landing, I looked at the weather. It was 22 degrees and the ground was covered with snow. We drove to the hotel and checked in the for the night.
———————–
Friday, 2/22
We spent the morning at the Iowa Historical Society with hundreds of high school students from around Iowa. We were able to hear Mary Beth & John Tinker speak, as well as Stanley Griffin. He's the son of Edna Griffin, known as the Rosa Parks of Iowa. He was not only the son of a civil rights pioneer, but also a childhood friend of John Tinker. It was inspiring to hear their tales of fighting for what they believed in, and to know that, at the same time, they were inspired by us and what we're doing.
During the lunch break, I signed copies of "Parkland Speaks." It was nice to meet students and teachers who were inspired by our stories.
We then went back to listen to Mary Beth & John Tinker speak about their case, and the circumstances leading up to it. This portion of the day was live-streamed in Iowa Public Television.
After we finished at the Iowa Historical Society, we went to Mars Cafe for a book signing event. Not only did Mary Beth & John Tinker come to support us, but so did their siblings and families. It was so nice to meet all of the extended family, and get a bigger picture of who they are.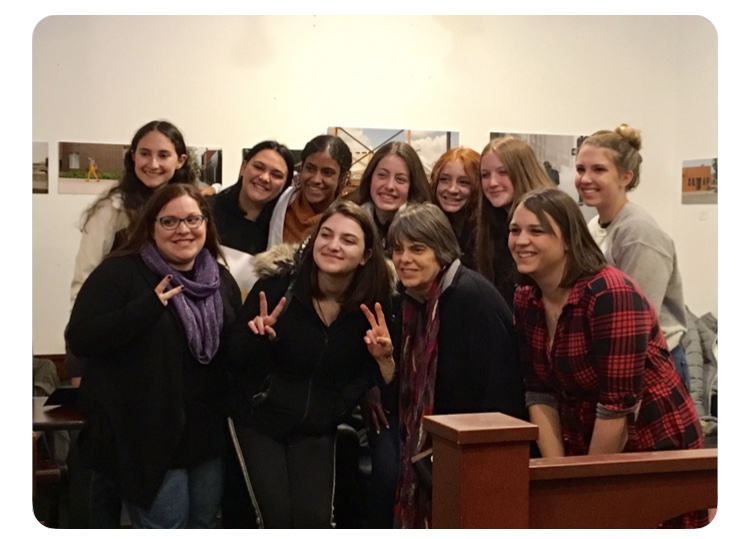 ———————–
Saturday, 2/23
We started out morning at Drake University. We met journalism students, as well as the dean and some professors. We spoke to them about our experiences, and they shared theirs. We then went outside and had some time for our students to play in the snow. As a native New Yorker, I grew up with snow and bone-chilling temperatures. Some of the girls who came with us had never seen snow before, so it was cool to see it through their eyes. They played, made and threw snowballs, and attempted to make snow angels.
From Drake, we went to the courthouse where the Tinker case was heard for the first time. We sat in the jury box, while we spoke to Mary Beth & John.
From the courthouse, we went to Raygun, a store located in Des Moines that I'm absolutely obsessed with. They had a joint event to unveil a shirt made especially for the #Tinkerversary, as well as have a book signing for us. I was able to meet lots of people and sign lots of copies of "Parkland Speaks." I also did a lot of shopping… too much shopping. I was proud to wear my Don't Tinker With My Rights shirt, as well as get a picture with Mary Beth.
———————–
Sunday, 2/24
Today is the #Tinkerversary. Fifty years ago today, Mary Beth & John Tinker, along with Christopher Eckhardt their Supreme Court case. We went to Harding Middle School, which is where she was a student when she was suspended. We sat in a classroom and spoke to her. She signed black armbands, talked about her fight over the past 50 years. She also promised us that she would continue to fight the rest of her life for not only free speech and student rights, but also for gun violence and gun reform.
I think it'll take a few days for what we did to sink in. I can't believe I was able to come to Des Moines, participate in this event and meet MBT!